America's Top Travel Destinations
The Top 10 Best Cities to Visit in the U.S.
(Plus A Bonus City!)
If you have plans to travel anywhere in the United States in the near future, check out ZZZippy's Guide of America's Top Travel Destinations. Compiled by travel experts, this guide delivers you the best travel destinations in the country. This listing grows and transforms as cities and activities change and evolves so that you are always made aware of the latest, greatest, and best things to do.
Enjoy your travels!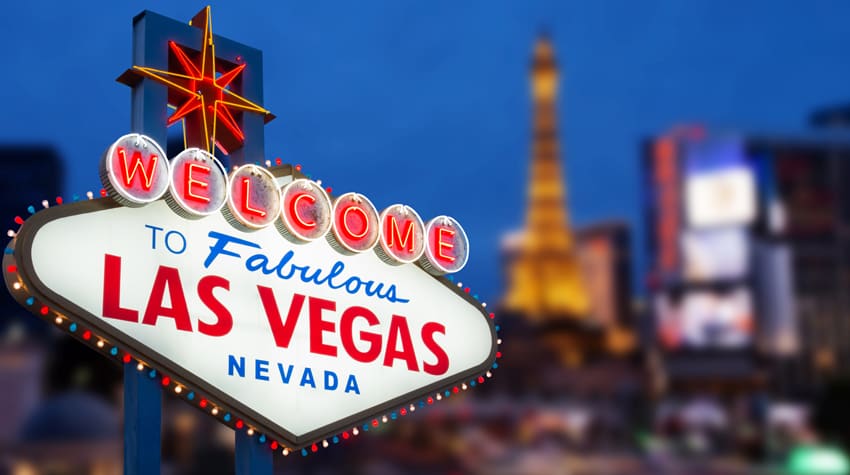 LAS VEGAS, NEVADA

To kick off our top Travel Destinations in America this is a great place to start! There is no place, absolutely no place on this fascinating planet, like Las Vegas. This amazing city explodes with the very finest food, top-rated luxury resort hotels, the most ostentatious casinos, and every type of art imaginable; not to mention the hottest talent anywhere.

For guests of Vegas, there is never enough time (and for gamblers never enough money). Las Vegas is undisputedly the entertainment capital of the world and has featured every major entertainer; from Sinatra to Shania, from Elvis to Elton; Vegas has been home to all the stars.

When it comes to architecture, the variety (and quality) is unrivaled. Some of the world's most amazing (and astonishing) casinos, resorts, condos and homes just happen to be in Vegas.

If you are an art aficionado Las Vegas is once again the place for you. Vegas can certainly boast one of the world's largest collections of art and if variety is essential, the artistic diversity that Vegas offers is significant (see Las Vegas' top art museums and galleries).

Finally, the food; culinary enthusiasts gloat that Vegas is like a gastronomic heaven; from sushi to steak, from old-world to the latest culinary trends; Vegas delivers check out ZZZippy's Top Restaurants in Vegas. If you love good food, Vegas always has something waiting to satisfy your appetite and you'll find the best here!

If you're looking for what to do while you're there check out Fun Things To Do in Las Vegas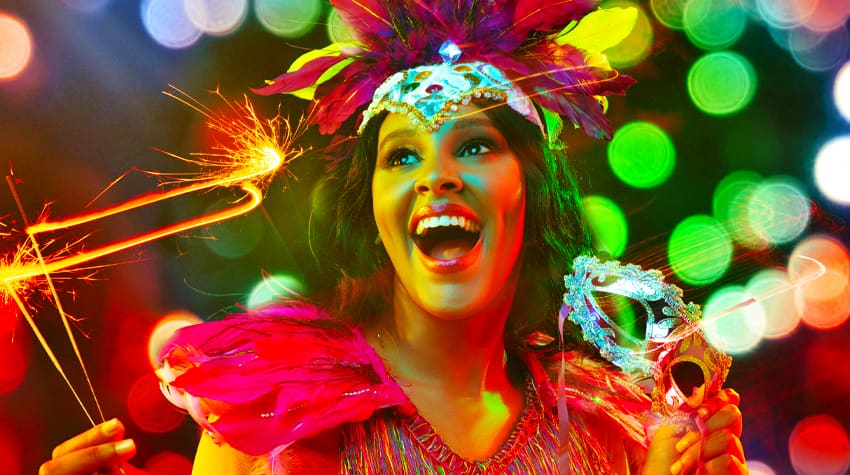 NEW ORLEANS, LOUISIANA

The "Big Easy" (New Orleans) sits on the Mississippi River, near the Gulf of Mexico. If you think Vegas goes all night you've seen nothing; New Orleans has a long reputation as the city that offers round-the-clock nightlife. The only way to understand New Orleans is to be there. Truth is, New Orleans is one of those cities you either love or hate. Large crowds scare some people and thrill others, so keep that in mind when you head to the culture-rich city on the south-most seaboard of America. There are three predominant things that come to mind for most people when they ponder New Orleans: Music, Mardi Gras and Cajun or Creole food. And there is good reason for those things to appear on the top of your mind's list.

MUSIC
First New Orleans-style music is in a league by itself and most music buffs believe that New Orleans is the jazz music mecca of the world. The pioneers of the jazz genre, Louis Armstrong, Buddy Bolden, Jelly Roll Morton, and Sidney Bechet spawn from New Orleans. Today many people envision bands parading through crowded streets when they think of New Orleans music and it's true that traditional New Orleans jazz, more often known as Dixieland, is often characterized by a front line consisting of cornets, clarinets, trumpets and trombones, all blasting out melodies that often consist of much improvisation. Driven by a rhythm section consisting of guitar and banjos, a tuba or bass and obviously, a drummer that provides a syncopated rhythm, keeps everyone moving, dancing and singing.

MARDI GRAS
Mardi Gras, until you've actually witnessed it, (meaning until you've participated in it one way or another), there is no way to explain this prodigious event. Mardi Gras is about music, parades, picnics, floats and pure partying. It has become one big holiday in New Orleans! Visitors and spectators experience the sights and sounds and general spectacular activities. They see participants dressed in outlandish attire made up of silks, satins and other loud fabrics of purple, green, and gold, and adorn themselves with long beads, masks and makeup. This is one huge and ongoing party, in fact, Mardi Gras celebrations last anywhere from four to eight weeks, depending on when Ash Wednesday lands. Mardi Gras Day outdoor celebrations last until midnight, and then you will be "asked to clear off the street."
FOOD
There's no way to understand Cajun or Creole-style food until you've had a real Cajun or Creole chef cook for you. Creole cuisine is a living cuisine, meaning it continues to evolve with new influences and actually redefines itself. The traditional dishes of the Creole people include red beans and rice, jambalaya, gumbo, and creole sauce dishes and they are as unique as they are delicious. Cajun dishes include also include jambalaya and gumbo. However, boudin and boudin balls, and rice with gravy are also Cajun favorites. The big difference between the two is that Creole food typically uses tomatoes and tomato-based sauces while traditional Cajun food does not.
Yes, the Big Easy is filled with several of the things that travelers desire, which is why it has made our list of America's Top Travel Destinations So visit the Big Easy and you'll have a lifetime of memories.
For more reasons that the Big Easy has made this list visit ZZZippy's "Fun Things To Do in New Orleans"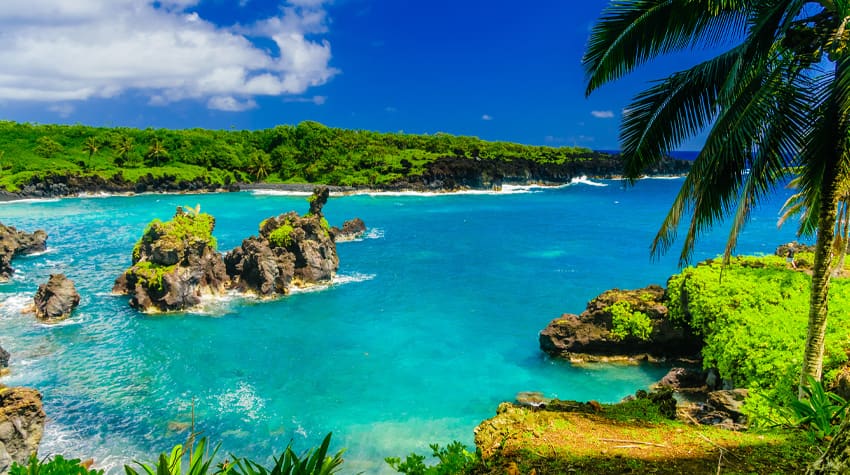 MAUI, HAWAII

Maui is one of the Hawaiian islands in the mid-Pacific known for its beach resorts, varied geographic splendor, astonishing golf courses and countless outdoor opportunities (walking the beautiful beaches, hiking, biking, and island road trips). Maui also offers a variety of water activities such as ocean swimming, fishing, windsurfing and snorkeling. Visiting guests can find waterfalls, astonishing ocean views and even see Haleakala's, a volcano in Maui which is dormant (not extinct) which means it is likely to erupt again someday, but unlikely to do so while you are there so don't worry.

There are 30 miles of beaches in Maui, colored with every sand you can imagine- white, black, yellow and even red, depending where you are on the island. Most visitors say that the weather is "perfect" on this Hawaiian island, with summer temperatures that average right around 78° F (and winter averages around 71°). The ocean always remains right around 80 degrees. However, beware; if you are going to visit Haleakala (even in the summer) the temperature at the summit can dip to a chilling 40° F. Overall, the island of Maui is certainly one of the top travel destinations in America!

See ZZZippy's recommendations for: "Fun Things To Do in Maui" before you go there!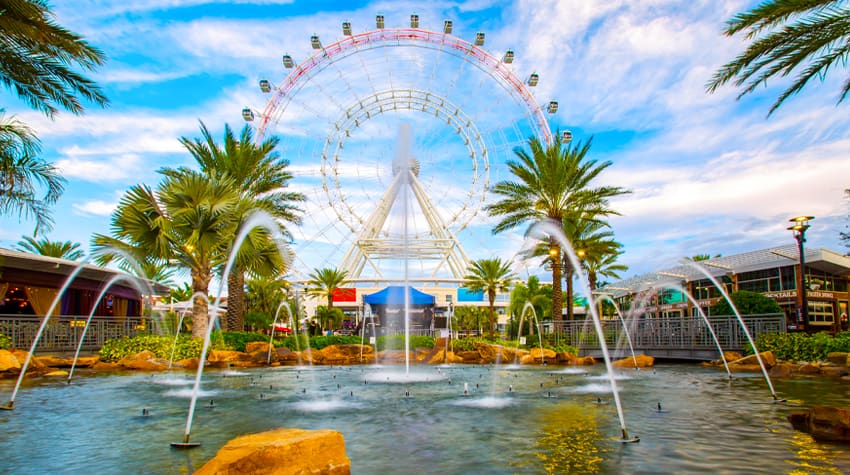 ORLANDO, FLORIDA

Orlando is simply the place to play! Obviously, the first place that most people visualize when they hear Orlando is Walt Disney World, but that is changing, in part because there are so many other opportunities in "the City Beautiful" (see our Fun Things To Do In Orlando).

Today some of the more popular places in Orlando include Universal Orlando, Sea World, the Harry P. Leu Gardens (a semi-tropical and tropical garden), the Charles Hosmer Morse Museum of American Art, as well as, a flurry of other great attractions and enjoyable places and activities. Orlando has a nice climate for the majority of the year although there are times in summer when the weather can be blistering and once in a while the winter temps can take an unexpected dive, so dress accordingly when you visit this great city. We have several reasons why Orlando made our list as one of the Top Travel Destinations in America. We would love to hear your reasons.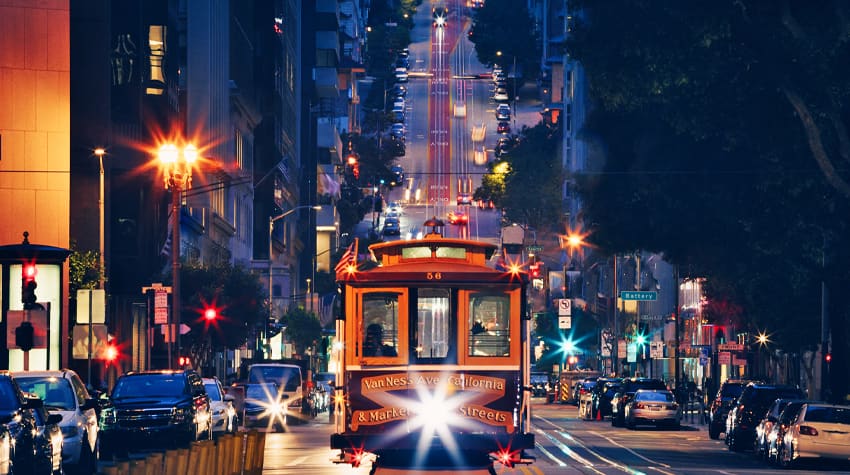 SAN FRANCISCO, CALIFORNIA

While much of California has lost its sparkle over the last few years, San Francisco has maintained its character, personality and its spot as one of America's Top Travel Destinations. In fact, if you decide to head anywhere in California in the near future, make sure it's "the Golden City". San Francisco is a must-see, must-visit city if you are anywhere on the west side of this beautiful country of ours. The people of San Francisco are extremely friendly, the sites are magnificent and the culture is bright and cheery. San Francisco is on the tip of a peninsula surrounded by the Pacific Ocean and San Francisco Bay. It's known for its hilly landscape (over 50 hills) and countless beautiful places to see including the Golden Gate Bridge. You'll also see popular San Francisco Cable Cars here, Pier 39 and Ocean Beach. In San Francisco Bay, the military prison (1859 to 1933) turned federal prison (until 1963), turned tourist attraction is located. The island it sits upon has long been known as "the Rock."

And again, if you decide to visit this fantastic travel destination, make certain you check out the Fun Things in San Francisco right here!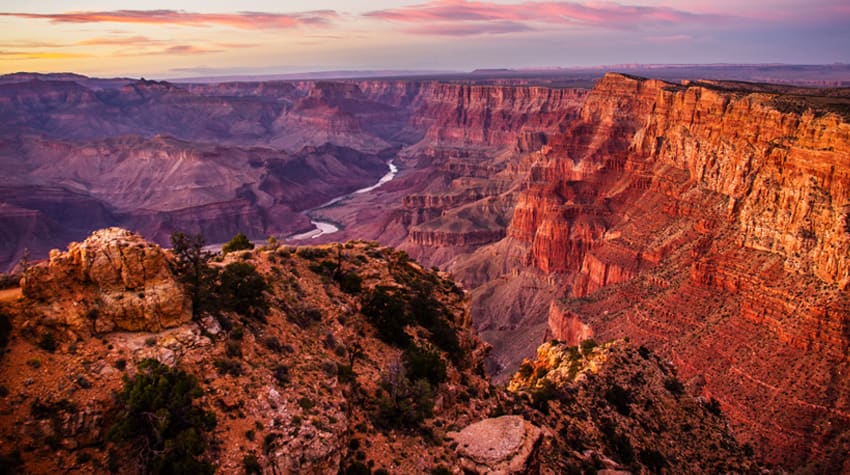 GRAND CANYON NATIONAL PARK, ARIZONA

Everyone is awestruck by the Grand Canyon's immense expanse of gorges, ridges and rock formations. The view is simply breathtaking and one visitors never forget. You could spend hours and hours going from one vantage point to the next where the view is ever-changing and always magnificent. Many visitors embark on an official hiking tour that takes you all the way to the bottom of the canyon. There are many trails to choose from and each offers a unique and enjoyable experience. When it comes to a place you will remember for the rest of your life take your family and/or friends to the Grand Canyon National Park in Arizona. The Grand Canyon is absolutely a must-visit attraction and of course deserves its place on our Top Travel Destinations in America!
Make sure to check out ZZZippy's Guide: "Amazing Things To Do in the Grand Canyon National Park"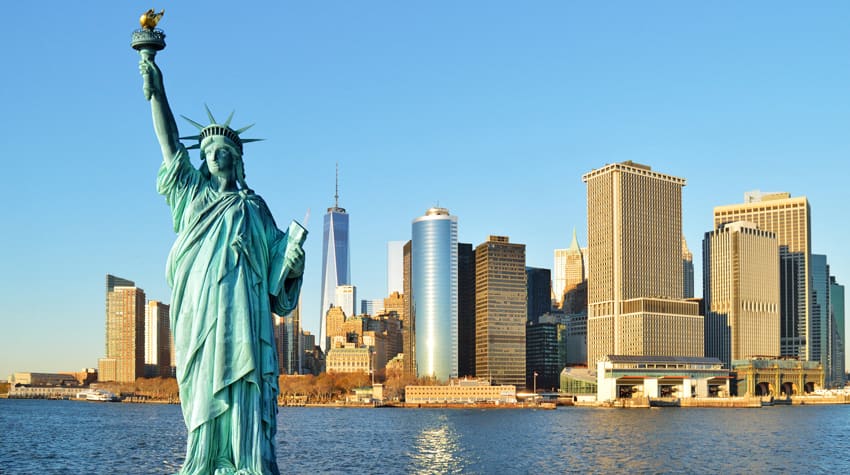 NEW YORK, NEW YORK

When travelers think of America's Top Travel Destinations they think of New York City. For years this has been one of the top Home to the Empire State Building, the Statue of Liberty, Rockefeller Center and a myriad of other fascinating sites and experiences, this fast-paced, international city is famous virtually everywhere on the planet. Art, Fashion, Theater, Culture and lots and lots of shopping opportunities, New York is like no other city. Guests of the city should definitely see Times Square, Central Park, the Brooklyn Bridge and the Radio City Music Hall, as well as the aforementioned sites.
The "Big Apple" is certainly a place that every American should visit as least once. Before you go check out ZZZippy's "Fun Things To Do in the Big Apple"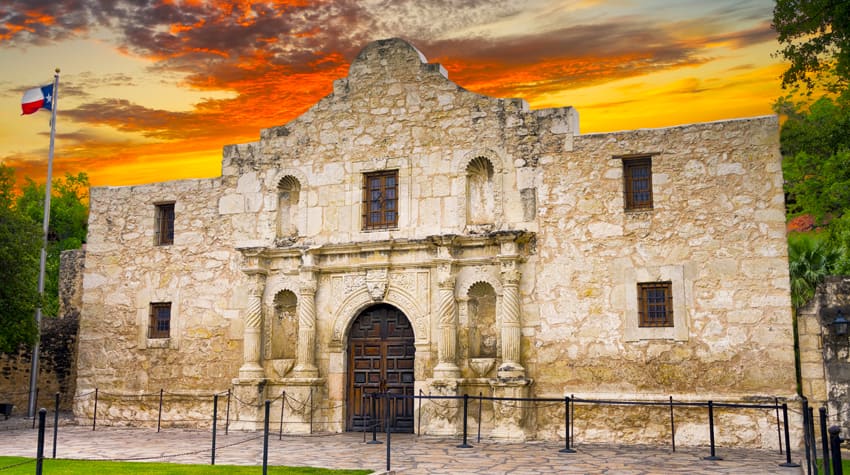 SAN ANTONIO, TEXAS

San Antonio is an amazing city with friendly people and endless activities. Located in south-central Texas it carries a rich colonial heritage, a friendly small-town demeanor and a myriad of activities. Whatever you do, when you're in San Antonio visit the Alamo, This 18th-century Spanish mission is preserved as a museum, and it marks an infamous 1836 battle for Texan independence from Mexico.

Also take in the many restaurants, bars and eateries. If you like Mexican/American cuisine San Antonio is your place. The city is so rich with history and fame it's remarkable. Robert Johnson, AKA, King of the Delta Blues, recorded many of his legendary songs in room 414 of the Gunter Hotel in San Antonio. Shaquille O'Neal learned to play ball at San Antonio's Cole High School. Teddy Roosevelt recruited his famous Rough Riders in the Menger Hotel, which is yet located in downtown San Antonio.

And that's just a taste of this interesting city. For a bigger and better taste come see it for yourself. San Antonio is one of our very favorite cities and certainly deserves its rank in the Top Travel Destinations in America. There is so much to do here that we thought that we would help you discover more in ZZZippy's "Unforgettable Things To Do in San Antonio"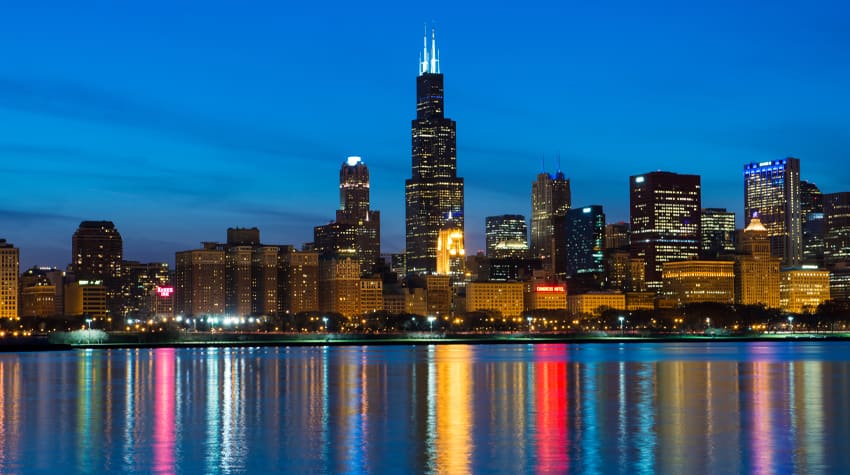 CHICAGO, ILLINOIS
Located on the west shore of Lake Michigan, Chicago is the third largest city in America. The Chicago skyline is spattered with towering skyscrapers and is known for its blatant, bold architecture including the famed John Hancock Center, the Willis Tower and the neo-Gothic Tribune Tower. Chicago is rich in culture, the arts, sports and entertainment… and absolutely incredible food. Combined these are the ingredients which make Chicago one of America's top travel destinations.
MUSEUMS & CULTURAL MARVELS
Some of our favorite places happen to be in the Windy City. You'll find the world-famous Museum of Science and Industry, the Field Museum, the Art Institute of Chicago and the Shedd Aquarium. Other sites worth a trip include Millennium Park, the Magnificent Mile, Buckingham Fountain and Navy Pier. Add to this, 2 of the finest zoos in America, Lincoln Park Zoo and Brookfield Zoo, (see ZZZippy's Top 25 Zoos in America), the Chicago Cultural Center and the Chicago Observation Deck and you'll start to understand the rich historical and cultural climate wrapped in Chicagoland.

PROFESSIONAL SPORTS
Chicago is famous for its professional sports teams, regardless of the game you prefer. Here there is a spectator sport for all seasons in the Windy City is a Sports Fan's Paradise. From Bears and Bulls to White Sox and Cubs (don't forget the Blackhawks and the Chicago Fire) Chicago's professional sports teams are legendary! There are six pro teams here, and between them, they've won 23 major championships... and sports fans absolutely love them. So if you like professional sports, this is one great big reason that Chicago is one of the top travel destinations in the country.

GREAT FOOD OF EVERY VARIETY
If it weren't for food Chicago would not fare nearly so well in most 'best cities in America' rankings. Shy Town has not one but several foods that it is absolutely famous for starting with Chicago Deep Dish Pizza. Chicagoland folks will fight over who makes the best but Lou Malnati's and Pizzeria Uno are always among the top contenders. In addition to Chicago deep dish pizza, Chicago is also known for their famous Chicago Dogs. If you call it a Chicago Dog, Chicagoans will not tolerate anything but the authentic combination of sport peppers, yellow mustard, pickle, neon green relish, onion, tomato and celery salt on Rosen's popular poppy seed bun... wrapped around a Vienna Beef hot dog. These dogs are like no other! Another famous food is the Italian Beef, the traditional recipe is made up of thin slices of seasoned roast beef, simmered and served au jus, topped with spicy giardiniera or sweet peppers, and a side of au jus for dipping. In addition to these popular foods greater Chicago area brags of an abundance of restaurants (over 20,000) and includes pretty much any type of food from the famous to the far-fetched. Chicago is indeed a place to dine.
Check out: ZZZippy's "Things To Do in Chicago" one of America's Top Travel Destinations!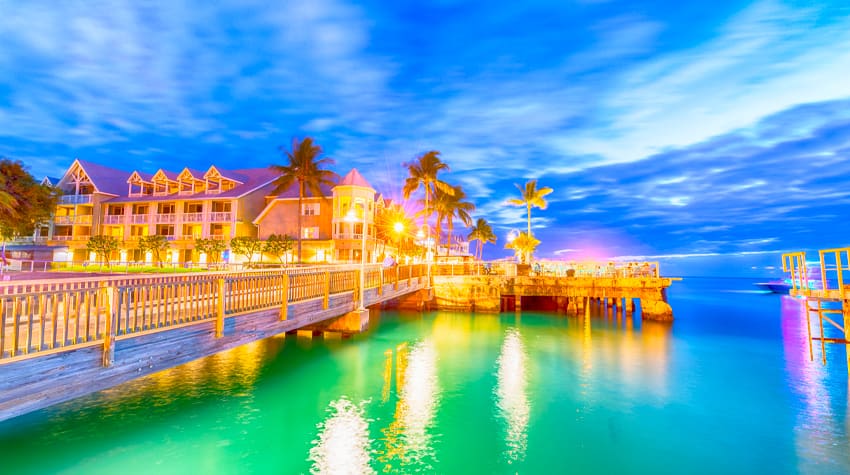 THE FLORIDA KEYS, FLORIDA

The weather, the ocean, the food, the beverages, the parties... The Florida Keys are a string of small tropical islands stretching about east to west about 120 miles off the state's southern tip, between the Atlantic Ocean and the Gulf of Mexico. The Keys, as they are known by locals, are subdued with a laid-back atmosphere, a no-drama attitude and yet a vibrant party character. The Keys is made up of several islands that each have their own character, their own style and their own personality.
The most famous of the Keys, Key West, is famous for many things including Duval Street's countless bars and many restaurants, as well as Mallory Square's nightly Sunset Celebration and the Ernest Hemingway Home and Museum. But many locals (and visitors) enjoy the Keys for fabulous fishing, scuba diving and other water activities.
If you're looking to chill, for fresh seafood, a margarita or three… head south my friend, to the Keys. The Florida Keys has continually been voted one of our Top Travel Destinations in America... for great reason! ZZZippy's List of: "Fun Things To Do in the Florida Keys"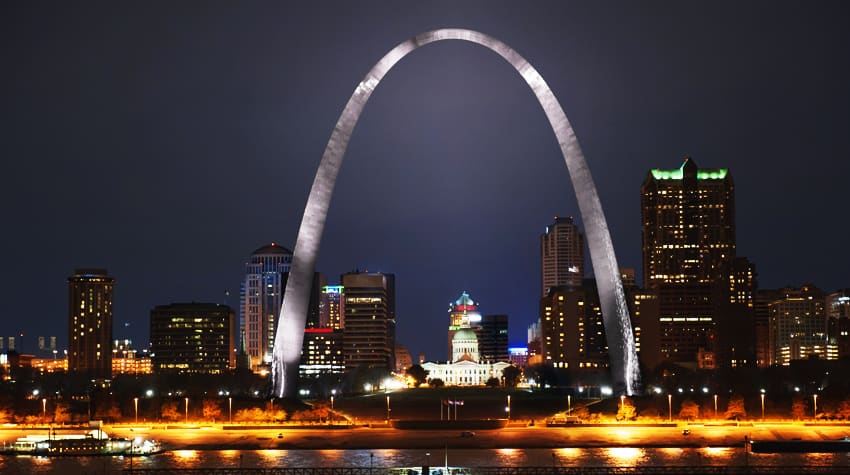 ST. LOUIS, MISSOURI

AMERICA'S TOP TRAVEL DESTINATIONS - BONUS
St. Louis resides along the Mississippi River and proudly displays the internationally known; Gateway Arch. St. Louis is a city that is rich in history, its diversity of people, its culture, and in the assortment of things to do. Most visitors enjoy a visit to the Gateway Arch, while many enjoy some of the city's collection of exciting museums, gardens, parks, and of course breweries. In fact, St. Louis is the home of the world-famous Anheuser-Busch Brewery where guests can enjoy complimentary drinks on their tour of the facility.

St. Louis is robust with great food and music as well. Pretty much anywhere you go in the city you will find a substantial variety of both. Somehow St. Louis feels to be a large, small city (or a small, large city) as there is a sense of quaintness while at the same time an abundance of activities and opportunities for visitors and residents alike. So get in your car, grab a bus, take a train or hop on a plane; however you do it get to this wonderful city and enjoy!

IF YOU"RE GOING TO ST. LOUIS DON'T MISS
• "Fun Things To Do in St. Louis"
• Best Restaurants St. Louis
• Best Zoos in America including the #2 rated zoo in America, the St. Louis Zoo!