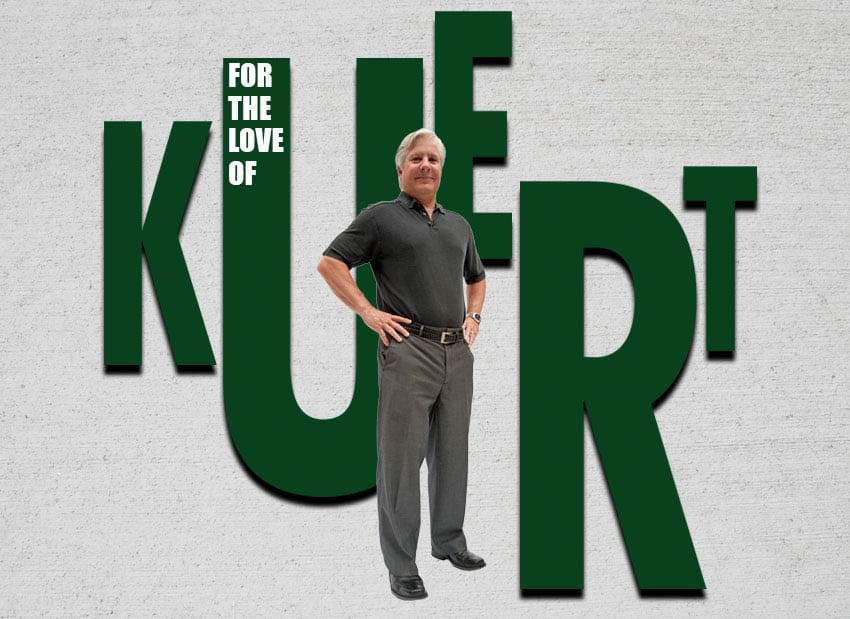 Steve Fidler
FOR THE LOVE OF KUERT
The region's most successful mixed concrete company continues its legacy as it takes on an exciting new venture… outdoor living supplies.
Almost 100 Years of Commitment to Michiana, Kuert Concrete, one of the oldest central mixed concrete plants in the United States continue its commitment to innovation, hard work and diversification.
1920s
It was 1925 when Central mixed concrete opened its doors in South Bend by the George Hoffman Co. John Kuert was employed as manager of Hoffman's central mix plant at the time. The first deliveries were made in regular dump trucks owned by individual contract haulers. A couple of years later (June of 1927) the company was incorporated as Kuert Concrete, Inc.
1930s and 1940s
It was in the early 1930s in the midst of the Great Depression when George J. Hoffman retired and sold his stock to John Kuert and Frank Morrow. It was quite an entrepreneurial gamble: construction was at an all-time low and many people couldn't even afford to feed their families.
Kuert Concrete struggled through 1931 and 1932 but in 1933 PWA (Public Works Administration) money was available, and one of the projects approved was Adams High School. Kuert Concrete received the job. With Adams and other projects, the company survived and continued to grow through the 1930s. In 1942 John Kuert resigned as President and was succeeded by D. Cole Hay. In 1947 the Board of Directors voted to spend $5000 to $6000 on the erection of a new ready-mix plant. The interest rate for the borrowed money was 4% per year (today that $5000 to $6000 is the cost of a new air compressor for our existing plant).
In 1949, Kuert and Hass Concrete (another local concrete redi-mix company that maintained a relationship with Kuert) purchased Standard Ready Mix, another company in South Bend that had filed for bankruptcy for $3850. The World War II era of the 1940s brought very good business to South Bend, first by additions to factories during the war, and then, by new housing starts during the years following. Kuert continued to grow at a very intentional pace during that period.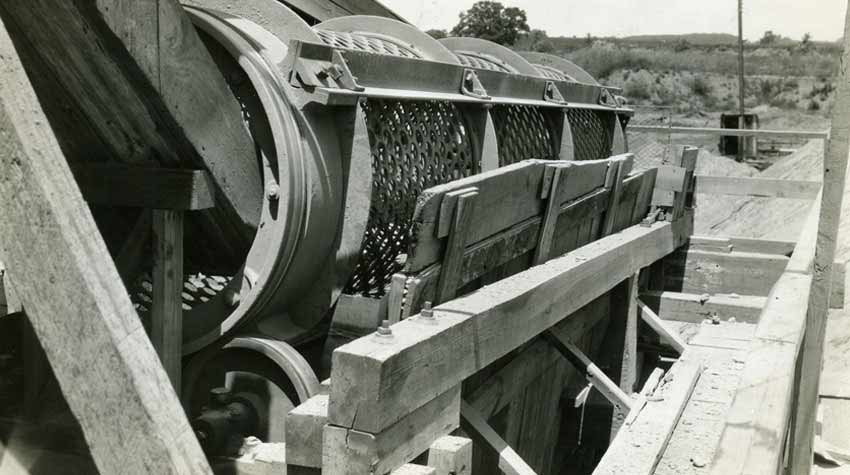 1950s and 1960s
The 50s were a substantial growth period for Kuert, fueled by the post-war boom and the construction of the Indiana Toll Road, which helped the yardage jump significantly. 1953 saw the completion of Plant #2 and their fleet grew to 17 units. In 1960 Kuert sold acreage on the west side of Bendix. Eight years later they sold additional land. The proceeds from those sales were used to further fund the operation's growth including the purchase of newer six-wheel drive, rear-discharge concrete trucks which aided the company in delivering their product to customers more efficiently.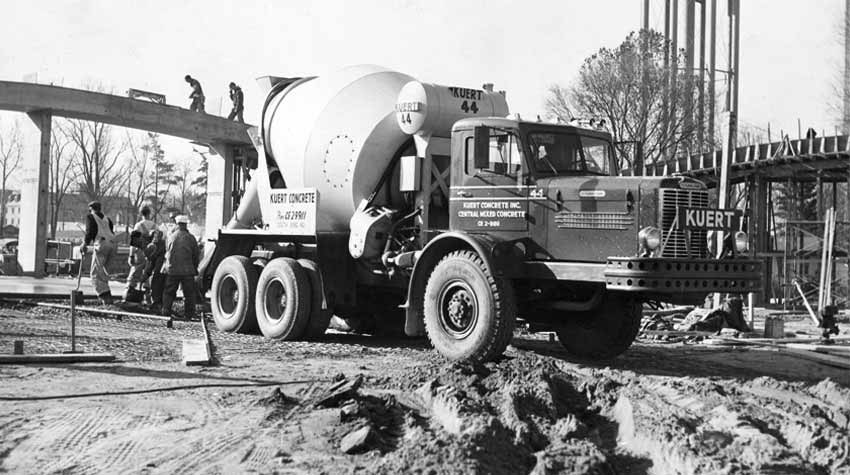 1970s
The 70's brought many changes for Kuert Concrete. Front discharge mixers, acquisitions within and outside of the industry, the sales of facilities, and the death of D. Cole Hay, Sr., a man that was considered a true pioneer of the industry. The vacancy of Board Chairman left by his death was filled by Mr. Frank Morrow. In 1971, Valley Concrete, with locations in Mishawaka, Elkhart, Niles and Benton Harbor, was purchased. In 1974, new truck washout systems were installed at each of the plants improving speed and efficiency. An agreement was reached with Fidler, Inc. for the purchase of the Elkhart plant. In 1975, a new ready-mix plant was erected in Niles at a cost of two hundred thousand dollars.
A year later, the merger of South Bend Sand & Gravel and Kuert Concrete was completed which laid the groundwork for further growth and soon thereafter (1978) Kuert Concrete purchased Nelson Engineering Sales, a local steel supplier. Around that same time, Kuert also purchased Fawcett Sales and Engineering which was the biggest competitor of Nelson. Sixty-six acres were acquired on U.S. 20 West for a future gravel plant. The company continued to grow through sound principles and values.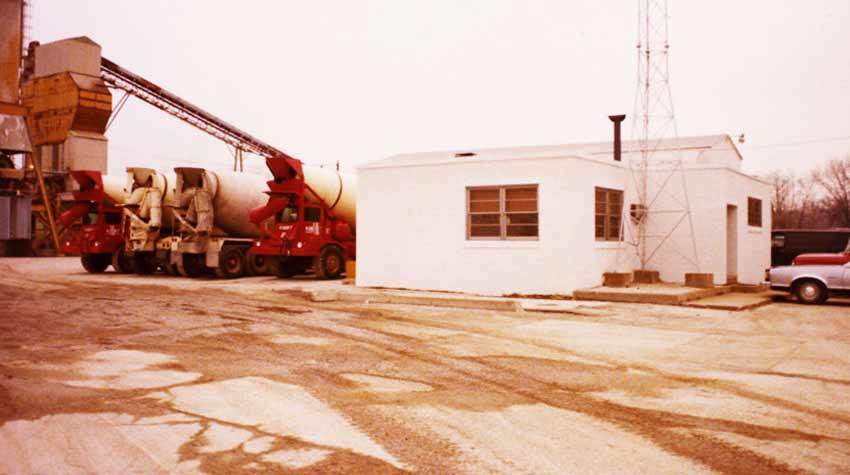 1980s
On June 13, 1983, John Fidler signed the papers to purchase Dave Hay's stock in Kuert Concrete. When the two first met, Mr. Hay had written exactly what he wanted out of the deal on a 2½" by 5" scrap of paper. Outside of the hoops the government and the bank made them jump through everything else on that paper was left the same.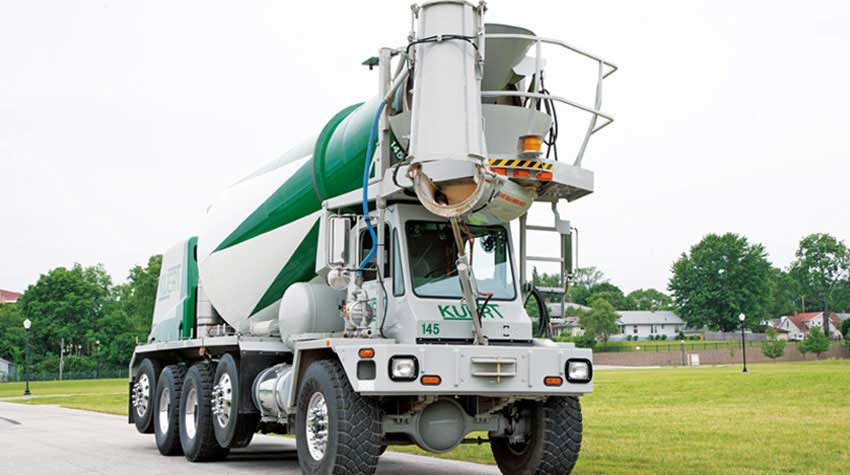 1990s
The legacy and the growth continued into the 90s as the company acquired the Goshen ready mix operation from Consumers and merged with American Ready-Mix, acquiring locations in Leesburg and Rochester. The company's reputation was solid and was a foundation for the continued expansion according to John's son, Steve Fidler. "Kuert Concrete's name had such a long history in our community as well as longevity, that I felt this was an ideal platform to build from. In addition, the Fidler name was a great brand as it had developed a very good image and reputation in the markets it operated. It was the affiliation of those two names that served as a solid foundation for our growth at that point."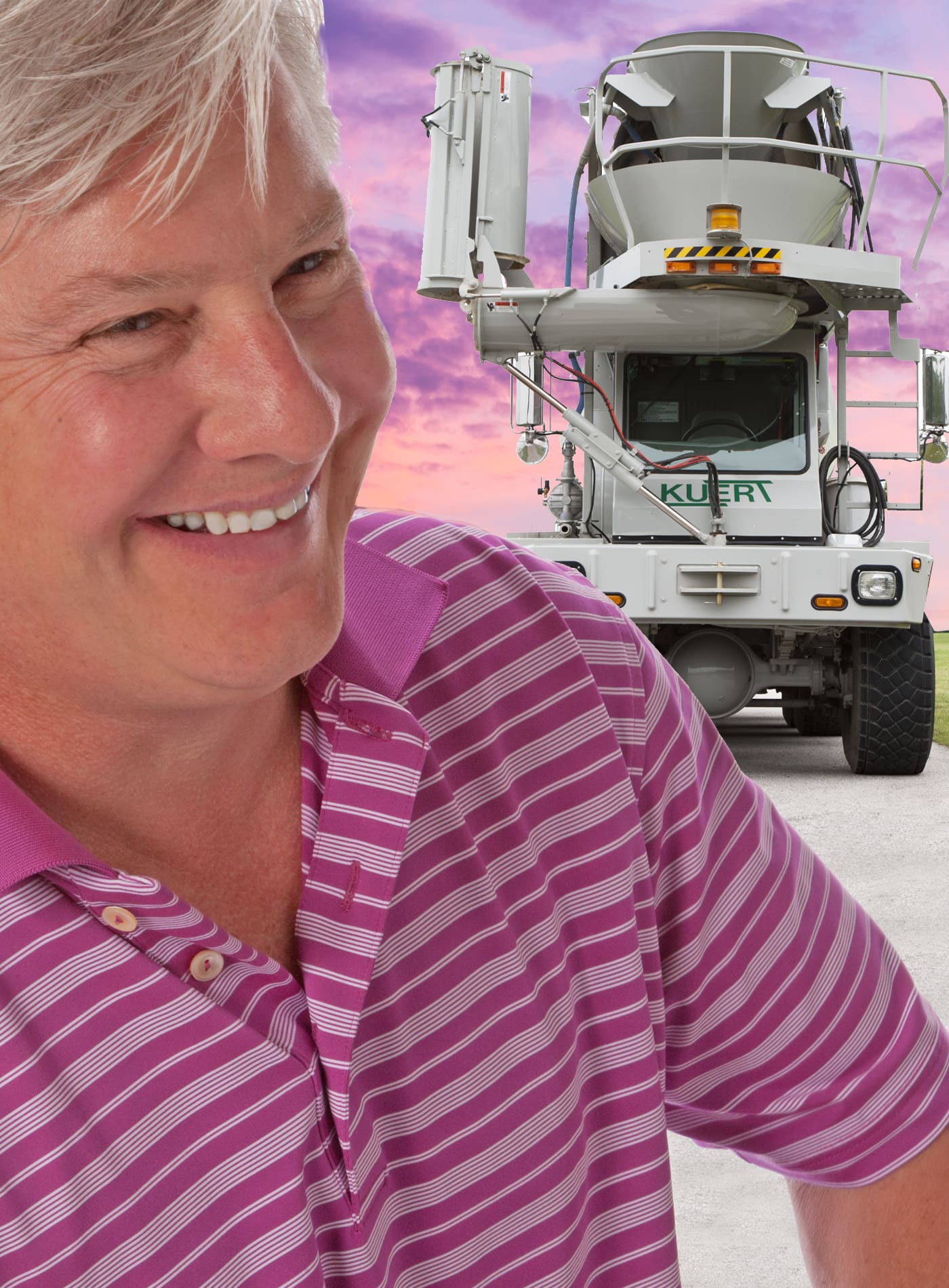 The New Millennium
On August 21, 2002, Kuert was commended by then South Bend Mayor, Steve Luecke, with a "Key to the City" as it celebrated 75 years of building a firm foundation for the Michiana community! The honor was just one more testament to the commitment to excellence and growth that Kuert has shown.
At the beginning of the new millennium, Steve Fidler, took the reins of the company as he became its new president. Steve comes across as a mild-mannered, simple guy, however, you would quickly find that he is extremely savvy, has a keen sense about him, is very perceptive and has many years of experience under his belt. In addition, Fidler has developed a reputation as a fair, intelligent, and extremely capable business owner/operator. All great qualities for running a large company such as Kuert.
"It was my objective when I became president to protect the Fidler name as well as the Kuert name. As a third-generation guy, it's more about reputation and helping our communities be better and stronger than business growth. I live by that belief… I run the company with that belief." In recent years Kuert has continued to expand but at the same time protecting its core values. The perseverance, hard work and commitment to quality that Kuert seems to put into each assignment that they win, large or small, appear to remain true and consistent. "It's all about instilling a sense of ownership in our employees. We try to insure that they feel this is their company. Part of that is to make sure that they understand that if we are pouring at someone's home that this is a significant part of making this a better place. Same thing if we do a large company pour, a hospital, a school or anything else. We want our employees to realize that there's a lot more at stake than our little piece of the project. It's about the local community and the families that make it up." Steve explained. "When we pour concrete we need to remember that there is a bigger picture than just what we do. We're contributing to a much bigger picture… it's quality of life in our community."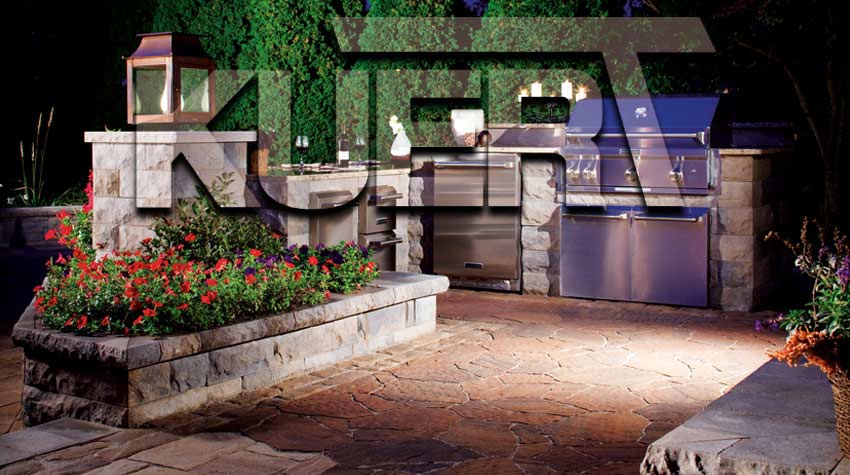 Diversification

In 2014, Kuert continued its steady growth and diversification when it purchased another Goshen ongoing entity, Sunrise Outdoor Living and Landscape Supply. The new company, now Kuert Outdoor Living, has two locations, South Bend and Goshen but serves the entire community with its new products. This diversification has allowed them to expand the company's products and product lines as they continue to meet the needs of the market. According to Fidler, "This is a perfect match for where we are today as well as where we are going. It allows us to increase our services so we can better serve our existing customers. It's also a way for us to enlarge our customer base by attracting new customers."
Furthermore, this venture enhances what the company presently does, Steve explained, "For us, this makes perfect sense; it goes hand in hand with the services we've provided for years. We are certainly serving the same customer base- contractors, architects, landscapers and home builders. However today we can even attract do-it-yourselfers. It's exciting to offer this unique line of outdoor living to customers. What we provide with these new hardscape products are both affordable and relatively easy to install."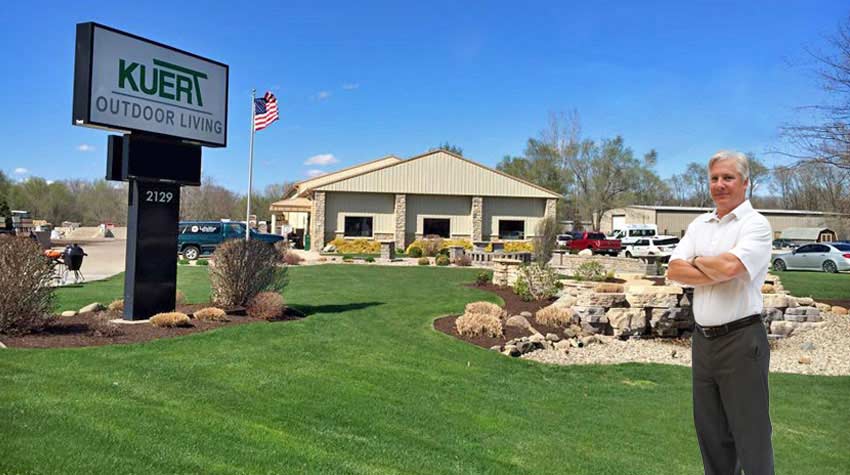 And So the Kuert Story Continues

Kuert Outdoor Living now offers new and existing patrons a myriad of new options through this expansion; outdoor fireplaces, fire rings, seat walls, outdoor dining tables, islands, pavers, retaining walls and a myriad of other supplies and materials. According to Fidler, the timing was spot on. "This is really great stuff and we've entered the market at the right time. More and more people are turning to outdoor living and staying at home to enjoy their personal paradise. The options are amazing and we serve so many different people with our new product, from low budget to medium budget to the extreme. We see more people every day expanding their outdoor lifestyles with our products. It's exciting to assist them with that.
However, Steve Fidler is committed to the legacy that he has acquired. "It is still all about our commitment to the things that have gotten us here today. Kuert's legacy goes back almost 100 years. It's my job to ensure that it continues."

With a legacy of community success, Steve Fidler's commitment to good values and a sound attitude, there is little doubt that he will lead his new company to continued success.
By Nikki Robert