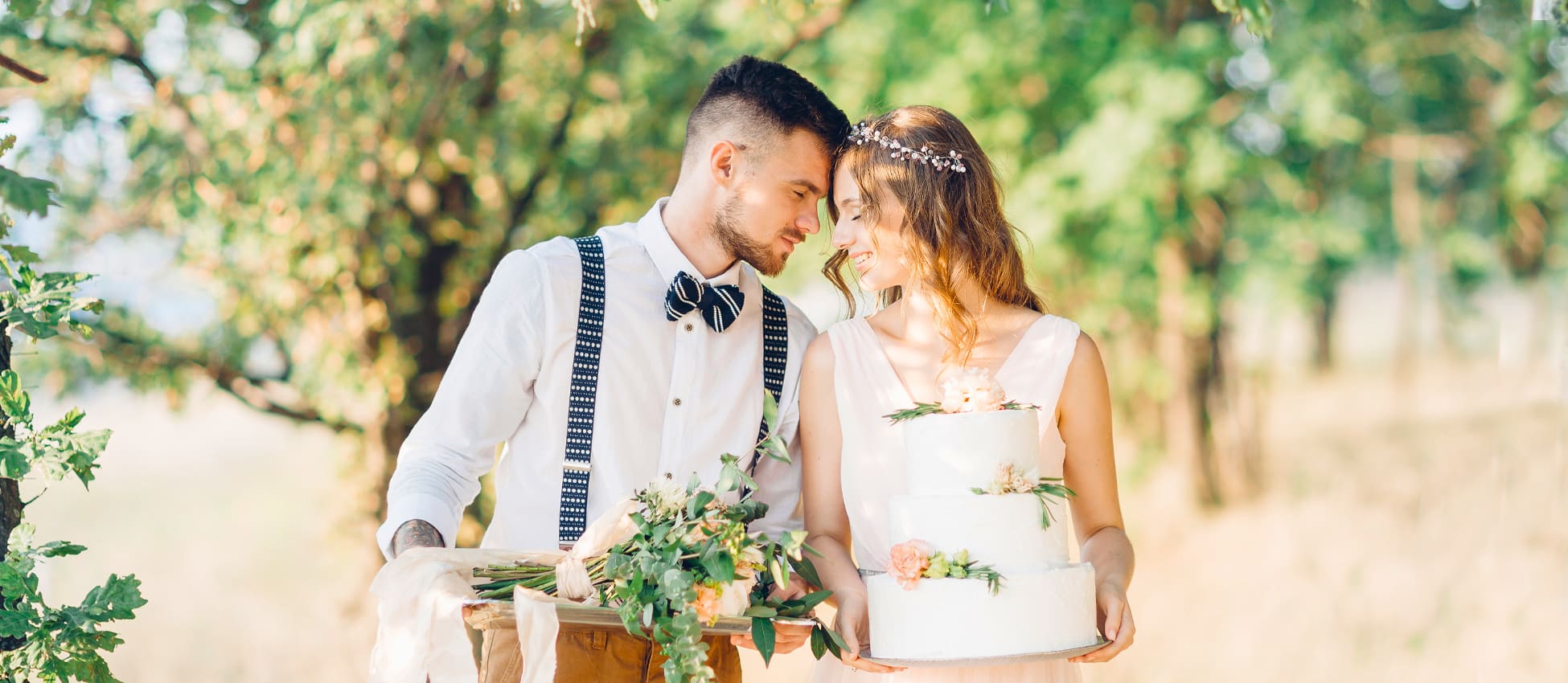 J Weaver Barn
The Perfect Outdoor Wedding Venue

J Weaver Barn in Goshen, Indiana has garnered a reputation as one of the very best wedding barns or wedding venues in the Elkhart County / St. Joe County market. For those in search of an affordable, yet stunning banquet hall... and those who appreciate the ambiance of an outdoor venue, the J Weaver Barn has to be at the top of your list of possibilities.
For engaged couples in search of a beautiful, impressive and memorable wedding day, the J Weaver Wedding Barn sets the stage perfectly. AT J Weaver, their mission is to make your special occasion absolutely unforgettable. There is always something special about country-style weddings and that's why they continue to become more and more popular, but it's the simplicity and charm of this particular gorgeous, rustic setting that is so hard to resist. Like anything else, wedding barns, are not created equal. To ensure that the J Weaver Wedding Barn is unsurpassed when it comes to wedding barns and outdoor wedding venues, the owners and staff of J Weaver have invested heart and soul to ensure that this charming wedding venue is unsurpassed when it comes to wedding barns or other outdoor wedding banquet facilities.
At the J Weaver Barn, the surrounding countryside is peaceful and quiet, the corn and soybean fields blanket the landscape, which ranges from flat to rolling with a grid of country roads adding to the atmosphere. It's here that you'll find J Weaver Wedding Barn – a beautifully restored 1889 barn, whose exterior is now protected by red metal siding and gray metal roofing... a simply extraordinary wedding banquet facility and the perfect venue to begin your new life.
J WEAVER WEDDING BARN FACILITIES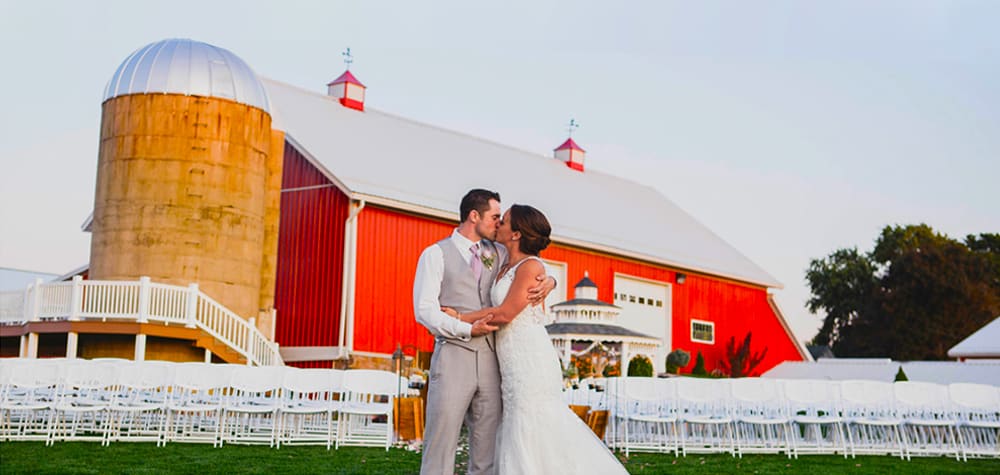 THE J WEAVER WEDDING BARN
The J Weaver Wedding Barn in Goshen, Indiana, is a one-of-a-kind wedding venue. The outside of the barn has a rustic old-world feel yet it has been totally renovated to look, feel and smell like new. The color and general feel of this appealing facility make for the perfect banquet hall to hold a memorable wedding event. The wedding structure itself is a 3,200-square-foot barn that dates back to 1889. Learn more about the J Weaver Barn vision here... J Weaver Barn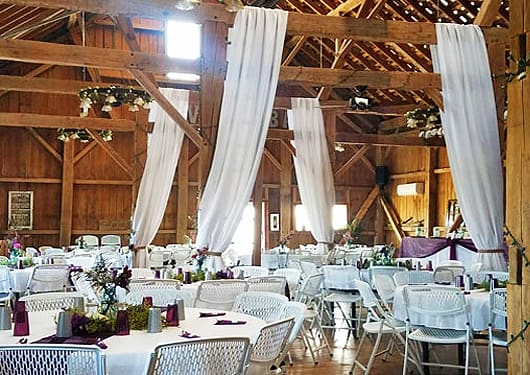 INSIDE J WEAVER WEDDING BARN
Inside this magnificent wedding barn is a time capsule of late 19th-century charm, complete with hand-hewn beams and wood floors... complimented by original barn siding walls, rafters, wooden barrels, and simple chandeliers. The charm and originality are unmatched. These are 2 things characteristics that make J Weaver Barn the perfect wedding facility, celebration venue, or outdoor banquet hall. Your guests will never forget their experience at the J Weaver Wedding Barn (nor will you) largely due to the fact that our facility is unsurpassed.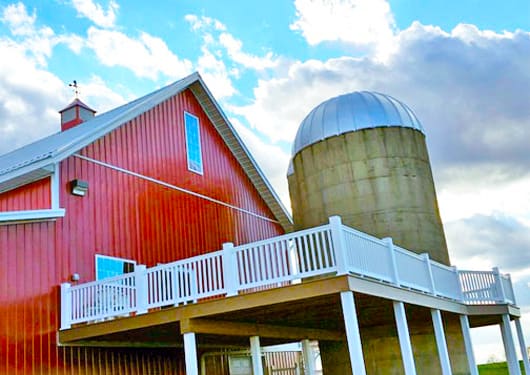 THE DRESSING ROOM & VIEWING DECK
Adjacent to the wedding barn is the silo where the J Weaver owners have designed a delightful dressing room for the bride and her attendants. This is a fun and handy area for the bride, her best friends, and her family. It is very versatile and comes in handy for that special wedding day. There is an attached large deck overlooking farmed fields which has stairs leading to the lawn as well as connecting to the barn. It's perfect for relaxing, conversing, and enjoying each other during a reception.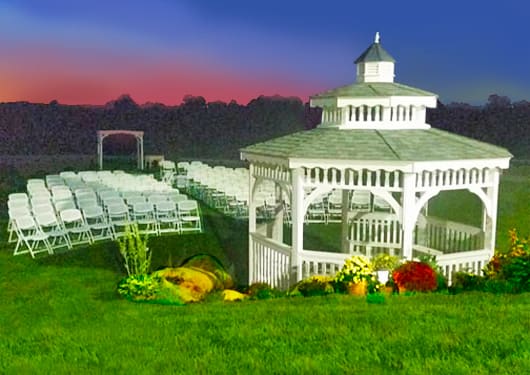 THE J WEAVER BARN MAIN GAZEBO
Not far from the J Weaver Barn, a beautiful gazebo (the Main Gazebo) is nestled in a large rock garden, opening onto a lawn perfect for outdoor wedding ceremonies. This quaint setting is adorable, yet at the same time very practical for vows, announcements, ceremonies, and other celebratory uses.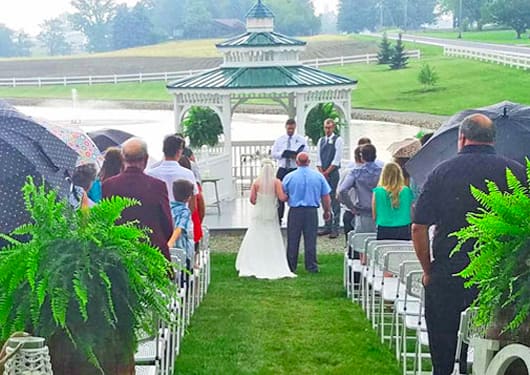 THE J WEAVER BARN POND GAZEBO
A second gazebo (J Weaver's Pond Gazebo) sits privately on the property on the shore of a large pond. This setting creates the perfect backdrop for any type of ceremony. This adds to the impressive setting for any unique occasion, especially for a beautiful wedding.
J WEAVER BARN...
PERFECT FOR EVENTS, CEREMONIES & CELEBRATIONS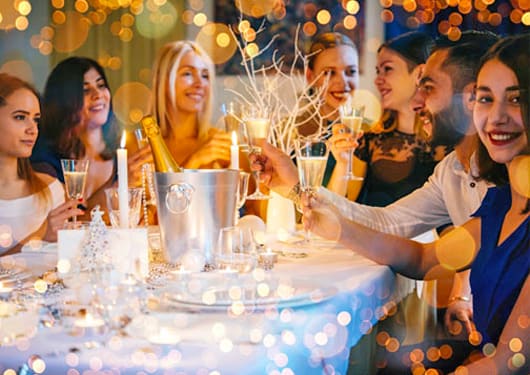 MORE THAN JUST WEDDINGS
While the J Weaver Barn is best known for wedding ceremonies, receptions, and wedding rehearsal dinners, it is also perfect for graduation parties, celebrations, family reunions and class reunions, holiday parties, corporate retreats and much more. The J Weaver goal is to offer you and your guests the finest experience possible, regardless of your event. They take every celebration and consider it to be the most important event that you will have. Assumably, that's why their guests rave about not only their facility but their attitude and performance as well.
The J Weaver goal is relatively simple - ensure that each and every guest has a delightful experience and that your event is unforgettable!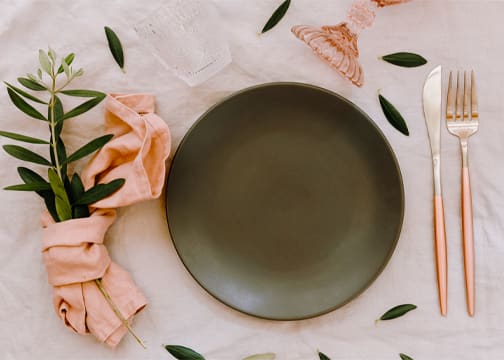 THE AMENITIES YOU NEED TO MAKE YOUR CELEBRATION SPECIAL
At J Weaver they provide guests with party tables and chairs for their receptions or celebrations. They also have linens and table clothes available to guests at a fair rate. They say their intention is to ensure that every host has all of the amenities they need to make their event the very best that it can be. If there is something that you are in need of simply let the J Weaver team know. They have ensured that thousands of guests are satisfied and certainly would ensure that you are as well.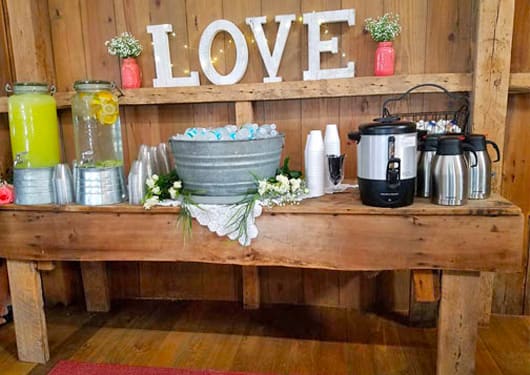 OTHER CONVENIENCES & AMENITIES
Unlike most wedding barns, the J Weaver Wedding Barn is equipped with temperature/climate control for the comfort of you and your guests. They have both air conditioning and heat available year-round. They want guests to be as comfortable as possible which adds to the experience of a successful event. A sound system is also available, which is very convenient in many situations.
The J Weaver Barn can also provide vintage style décor, including centerpieces, vintage doors, windows, barrels and pallets. They offer beverage dispensers for cold drinks such as iced tea and lemonade. Plus they have silver accents, candles, candle holders, china (for head table), goblets, lanterns, mason jars, tablecloths and runners, filler flowers and pretty much anything else you might desire. Finally, at J Weaver, you can walk away after your event without the stress of cleanup.
J WEAVER WEDDING BARN FACILITIES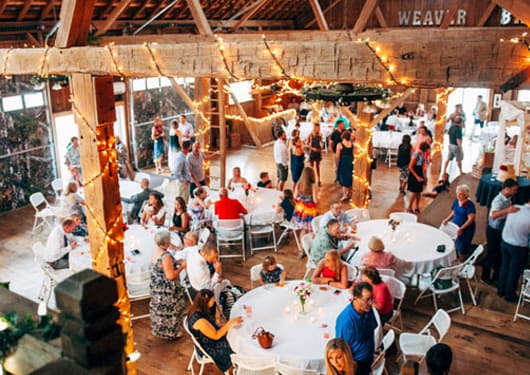 J WEAVER CAPACITY
The J Weaver Barn has a main area (or main room) that is 3,200 square feet of banquet hall alone. This space itself can accommodate 240 guests at round tables. This does not include outside areas or other areas on the property. This is ample room for most wedding receptions, wedding venues, and other banquet facility celebrations and parties.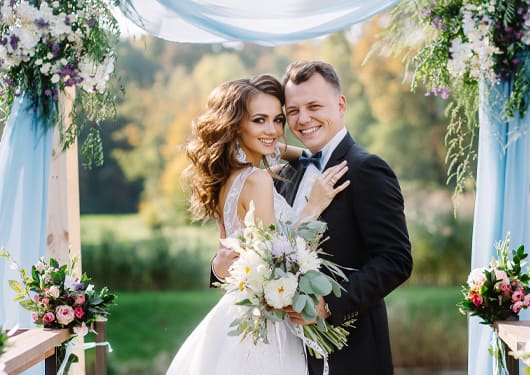 OUTDOOR WEDDING CEREMONIES
For outdoor wedding ceremonies (and other celebratory events) the J Weaver staff will assist you by setting up chairs, decorating specific areas, providing tables, providing the names and contact information to the area's best caterers. We also do everything we can to meet other special requests you might have. This is just a sampling of our services.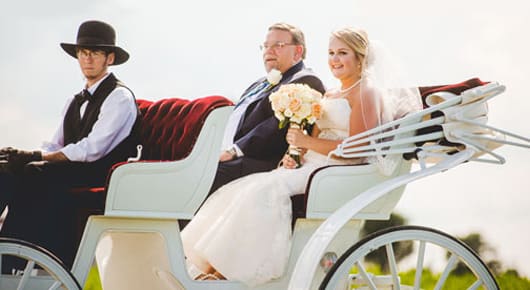 HORSE AND CARRIAGE ENTRANCES
Make an unforgettable grand entrance to your wedding ceremony in an elegant horse-drawn carriage. Perfect for your country wedding day experience, a horse-drawn carriage ride around the scenic property after the ceremony is sure to be a memory maker. It's a perfect photo op for your country wedding album!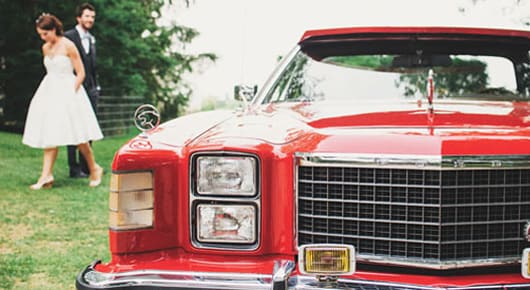 PARKING AND DIRECTIONS ASSISTANCE
J Weaver has their own parking area and attendants which makes life a bit simpler for everyone on a hectic day. The parking attendants help direct folks while parking vehicles. Attendants provide assistance and direction as well as help keep parking areas clean and orderly to ensure space usage is maximized and the general safety and convenience of our guests.

J WEAVER BARN CATERING SERVICES
While J Weaver Barn does not cater events themselves, they are happy to assist their guests in finding the perfect caterer for their events. They even provide a list of preferred caterers to choose from. Whether you're looking for simple or complex, from casual to a bit more upscale, the J Weaver staff can assist you in finding just the right food vendor for your event.
MEMORIES CAPTURED AT J WEAVER WEDDING BARN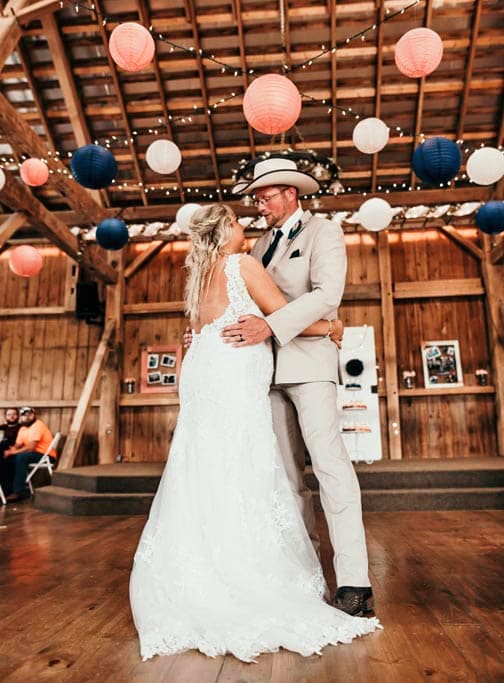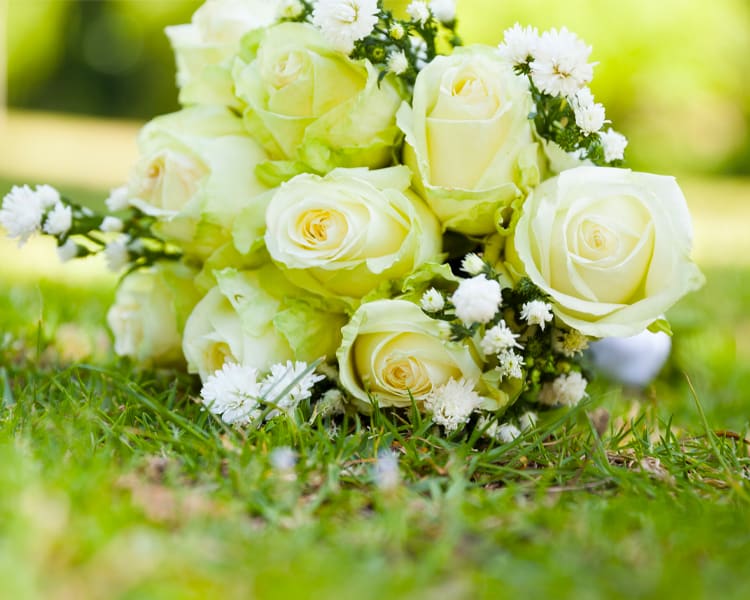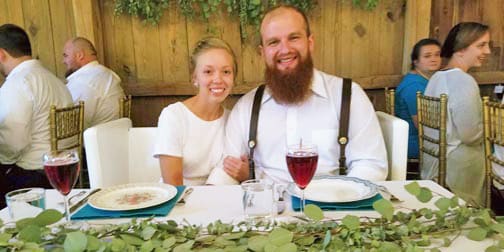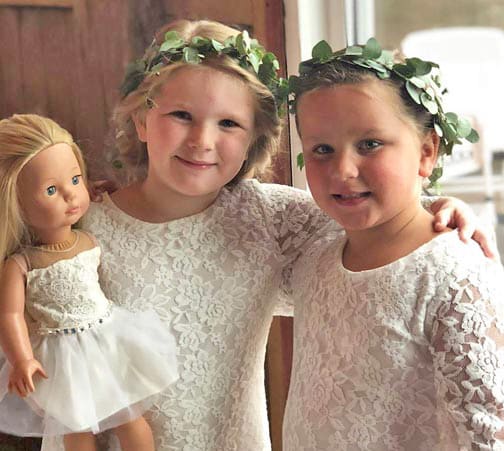 YOUNG GUESTS ENJOYING THE CELEBRATION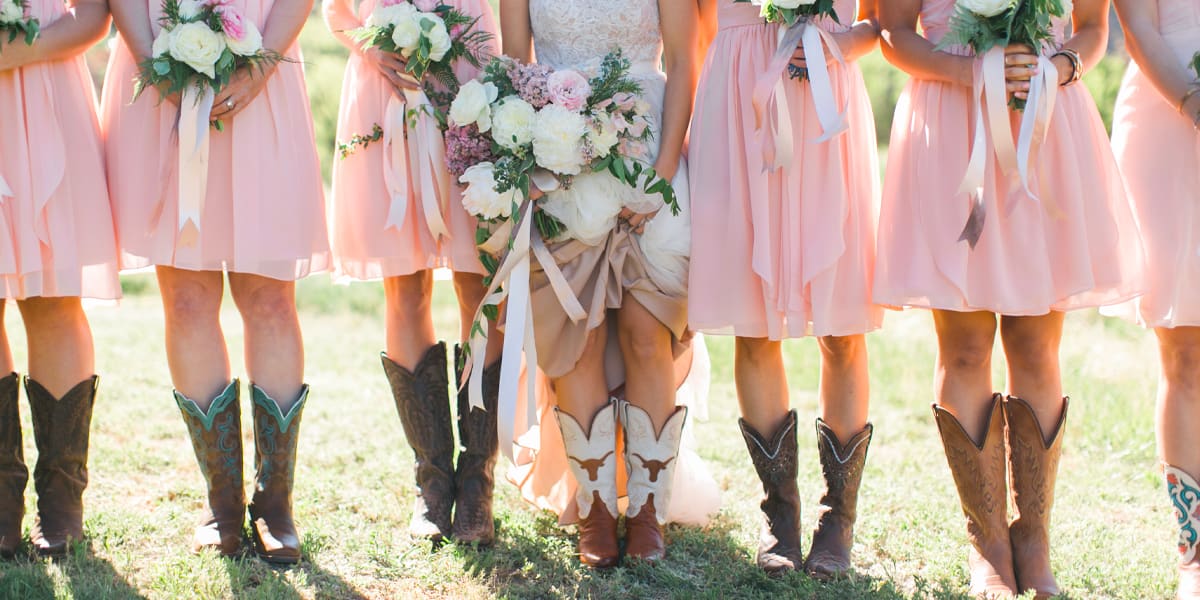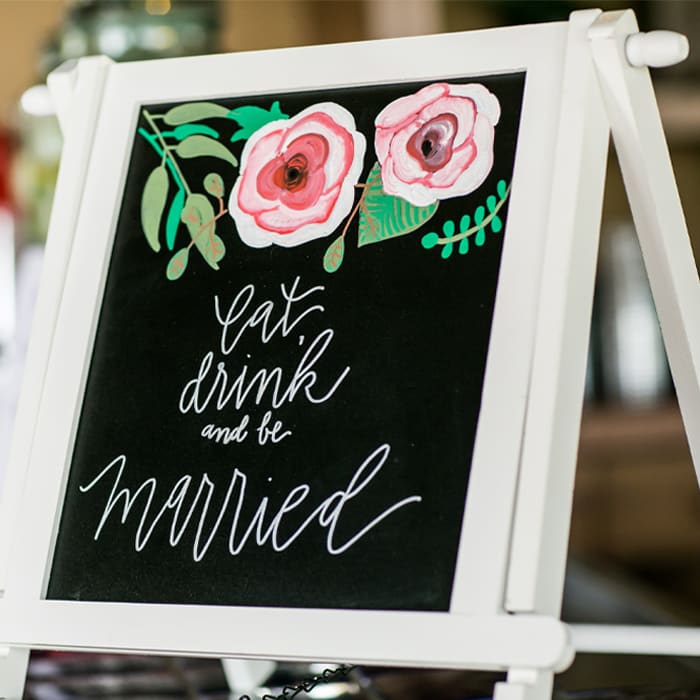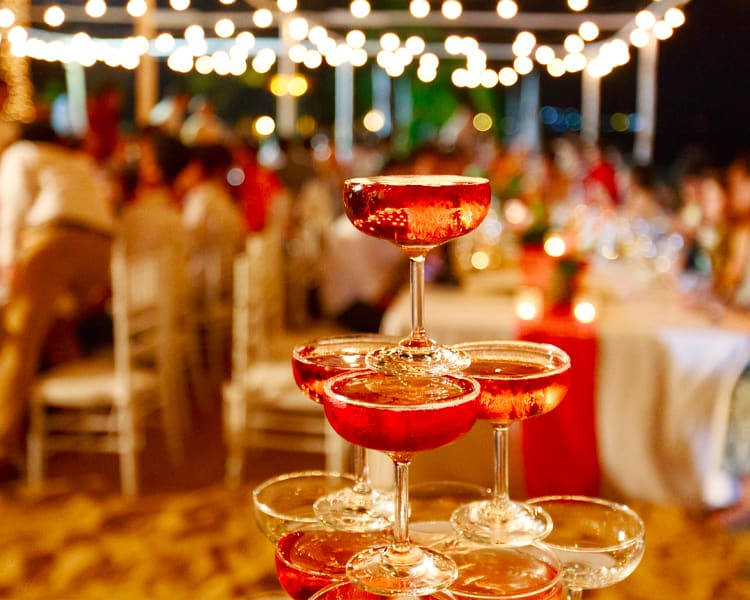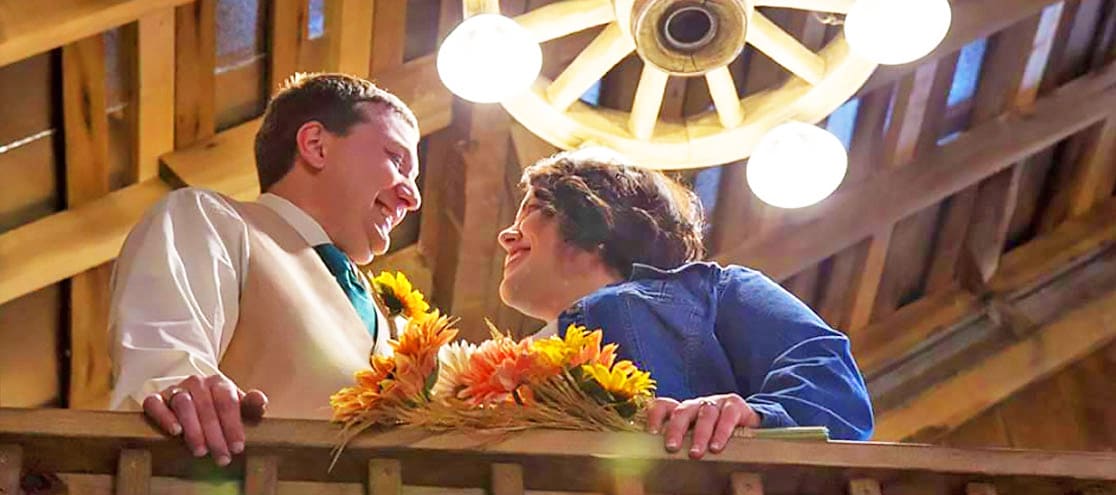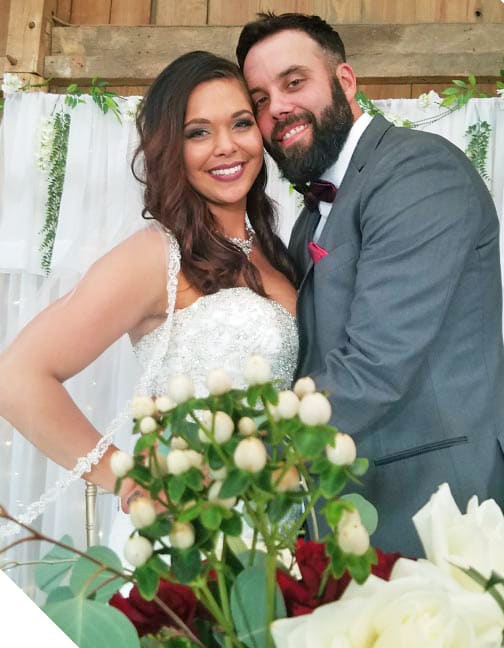 PHOTO ALBUM PICS FOR NEWLYWEDS